Kathleen Dolan
Senior Consultant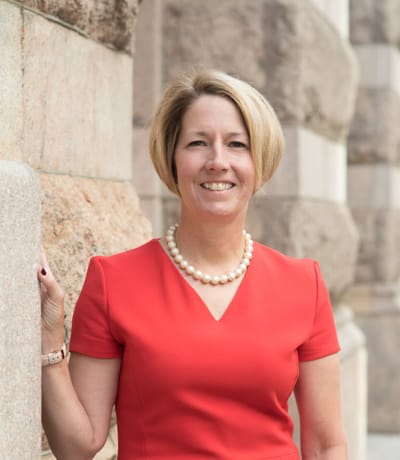 "The opportunity to work with insightful, results-focused colleagues while helping and sharpening the skill sets of clients who seek greater results from their work, initially attracted me to Plus Delta and still keeps me motivated every day."
Kathleen brings more than 20 years of non-profit fundraising experience to her role as a Senior Consultant at Plus Delta partners. As a leader, manager and coach, Kathleen has overseen frontline fundraising teams in higher education and academic medicine, successfully growing productivity while enhancing the philanthropic perspective of donors and fundraisers alike.
Prior to joining Plus Delta, Kathleen served as the Associate Vice President for Development at Kenyon College where she managed a 16 person team to record-setting fundraising results –more than quadrupling planned gifts dollars raised and more than doubling the number of major/principal gifts.
Kathleen also served as the Director of Principal Gifts, Major Gifts, Donor Relations and Reporting at the Kellogg School of Management at Northwestern University, achieving three straight years of fundraising milestones for the school in major/principal gifts closed and dollars raised. And, seven years as the Associate Director of Operations and Campaign Manager at the Wexner Medical Center at The Ohio State University, Kathleen began her career outside of fundraising as an Associate Director of Athletics and Senior Woman administrator at Ohio Wesleyan University and before this, as the Associate Director of Admissions at Knox College.
Kathleen holds a BA in Psychology from the College of Wooster and today lives in Columbus, Ohio.