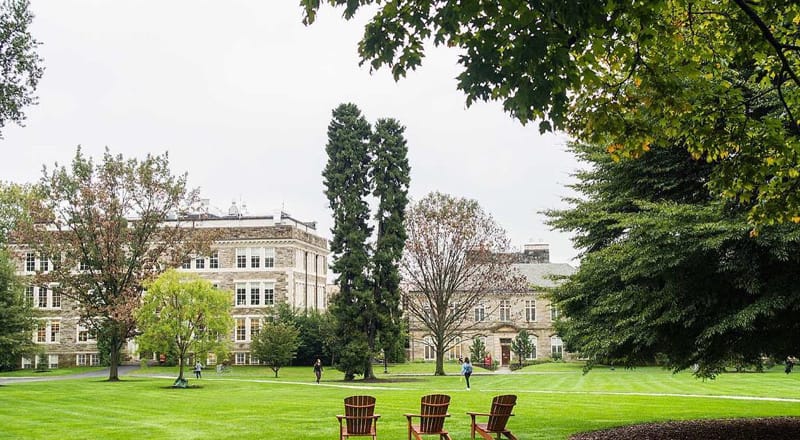 Haverford first engaged PDP during the quiet phase of what would mark the College's most ambitious campaign to date. Haverford needed to quickly establish a strong culture of philanthropy and bring the frontline fundraising team as well as all fundraising partners up to speed with an aligned, strategic approach to achieving their objectives.
Challenges
The College had a largely new staff with different levels of experience.
Development was working with a relatively small alumni base of 13,000 and a highly concentrated core of prior donors.
The College needed a sustainable, repeatable approach to fundraising and to re-set donor experience with the institution.
Benefits & Results
The frontline fundraisers improved dollars raised – from $14.3M the year prior to working with Plus Delta to $17.5M the year after going through Plus Delta's DFF program –while also increasing the number of proposals generated by 146% and raising their ask-to-grant ratio to over 90%.
Gift officers were able to achieve gains by taking a much more structured and disciplined approach to each donor conversation. They began having much clearer and crisper conversations with donors about philanthropy and building trust through transparency, an approach that had a particularly strong impact with the parents of students.
Gift officers became more confident and more effective at qualifying prospects and moving these prospects through the donor engagement process™ to a gift.
We found a true partner in working with Plus Delta – one that added to our bandwidth and enhanced our fundraising results. The most important outcome of working with Plus Delta is that they instilled discipline in our process without putting gift officers in a straightjacket. To a person, all the participating gift officers benefitted significantly from the Plus Delta training. It was smart money to spend, even when resources were scarce. It more than paid for itself. Today, with five years of hindsight, I would add that Plus Delta produces enduring value to a fundraising program. The Plus Delta methodology and shared language continues to yield benefit to the College with a fundraising program that hits on all cylinders. We exceeded our ambitious capital campaign goal by 20%, met financial targets set for each and all stated priorities and even set a new high watermark for gifts and pledges in the year after the campaign, sustaining institutional momentum. Plus Delta played a meaningful role to ensure that level of durable success.
Ann West Figueredo, Vice President for Institutional Advancement
Haverford College