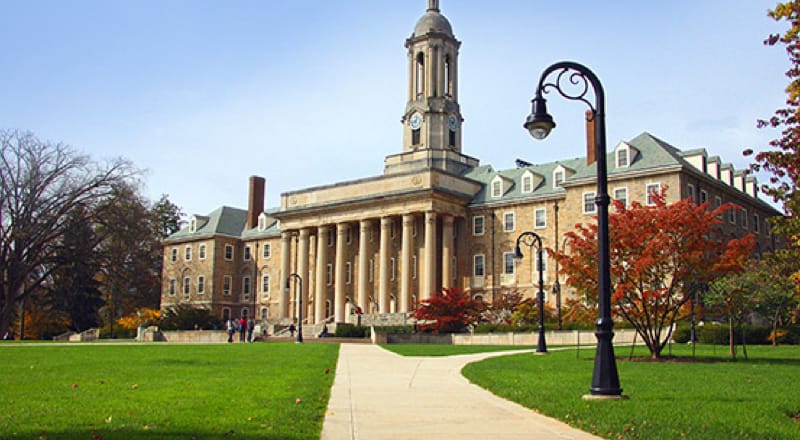 In 2016, Penn State engaged Plus Delta in conjunction with the start of a 5-year ambitious fundraising campaign. Seeing immediate success from participants in the first PDP DFF program cohort, Penn State brought PDP back in 2017 for two additional cohorts of frontline fundraisers, and in 2018 brought in PDP to facilitate a cohort with academic leaders across the university who are critical partners in the major gift fundraising process.
Challenges
Penn State unit fundraising managers and staff frequently operated in silos, at times missing opportunities for joint asks and larger more complex gift opportunities.
Some staff were over-cultivating prospects which led to longer-than-necessary solicitation cycles and a hesitance to address challenging prospects.
Staff tended to focus on gift minimums and did not demonstrate to prospects the difference their support could make by sharing a compelling, impact-based case for support.
Benefits & Results
In post program surveys, Penn State reported achievement of $45 Million in incremental commitments raised in FY18 among program participants (representing significant ROI over their investment of $350,000) in response to applying the DFF tools and leveraging Plus Delta's coaching. Participants reported:

50 gifts totaling $13M that would not have otherwise closed
64 gifts totaling $21M that closed faster than they otherwise would have
34 gifts totaling $11M that closed at a higher amount than they otherwise would have

83% of PDP participants reported significantly increased effectiveness in qualifying and disqualifying prospects, as well as increased ability to assess, diagnose, and advance philanthropic relationships.
PDP participants reported a higher degree of integrity in assessing donor relationship maturity, resulting in improved confidence in gift pipeline and more accurate gift timing forecasts.
PDP participants expressed increased confidence and pride in their roles as frontline fundraisers and the communication skills to be forthright and invite donors into a partnership driven by shared goals.
Penn State's philanthropic efforts have benefited tremendously from our relationship with Plus Delta. Their philosophy on major and principal gift fundraising aligns closely with ours and Plus Delta has helped us to offer a training program around that philosophy which we simply didn't have the time or resources to fully develop ourselves. Their coaching style resonates with our staff and academic leadership, and Penn State has realized tremendous value from our partnership with Plus Delta. The additional dollars raised speak for themselves.
Dave Lieb, Sr. Associate Vice President for Development
Penn State University